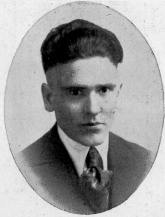 Roy's Ambition
His view as a senior (1920)
-- or --
Things hardly ever turn out as you expect.
My Ambition

I've often wondered in my life
just what I want to be
but there doesn't seem to be a thing
that just exactly suits me.
My first ambition when a boy
was to run a candy store.
So I could eat all the candy I wanted
and when hungry go eat some more.
With the lawyers and the doctors
I never could agree.
I did not think a job like theirs
would ever appeal to me.
As for blacksmiths and ditch diggers
you may hold your jobs with peace.
I will never compete with you
it takes too much elbow grease.
I could never learn to be a judge.
They wouldn't have me as a preacher.
I don't like a school inspector's job
and damned if I'd be a teacher.
I never was much of an athlete
and I don't want to play ball.
And as far as being a boxer
That's not in my line at all.
I don't want to be in anybody's way.
I don't want to be a meddler.
I don't want to be a book salesman
Or any other kind of peddler.
Sometimes I think I'll join a show
and be a funny clown.
Or travel with a carnival
and run a merry-go-round.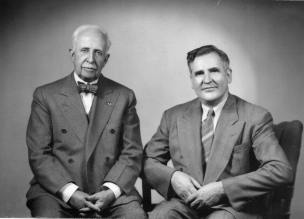 Roy Hutchison (right),
J. C. Penney store manager for 34 years.
He continued to enjoy clowning around.
He is pictured with James Cash Penney (left), founder. (December 3, 1948)