Ruth Howard Wadlin

(Née Ruth Leona Penny)

An Autobiography
I was born November 26, 1909 to William Elmore Penny and his wife, Elsie Jessie Holt, probably without a doctor in attendance, hence no birth certificate, in the farming country near the towns of Hoopestown and Milford, Illinois. This was north of Danville where there was work on farms and in canneries. I was their fourth child, the first two having died in infancy.
The next summer Typhoid Fever struck the area. Elsie, my mother, had to be taken to the hospital in Danville where she died. I was placed in the Children's Home next door. Dad Penny could not take care of my older brother, Randolph, and me because he was threatened with tuberculosis of the lungs. The doctor told him he had less than four months to live. Elsie's sister, Eva Scoone, living in California offered to take Randolph. Dad Penny put me up for adoption. He went to California where he found outdoor work for over a year and was cured of his lung problem. His original problem, he believed was caused by working in the dusty atmosphere of a leather factory (shoe manufacturing).
Doctor and Mrs. Howard had married in 1892 and had bought out a medical practice and settled in Danville, Illinois in 1894. Soon they decided to buy the old Le Seur mansion, then used as a boarding house, for his office to be established as part of their home. By 1900 Dr M.L. Howard had a well established practice and Mrs. Howard was past the child bearing age. She was 44. They had visited the Children's Home several times looking for a baby to adopt. One day her friend, Mrs. Webster of the Children's Home, called her to say, "We just got a baby girl I think you would like. Why don't you come to see her?"
Doctor and Mrs. Howard did like me, although I was described as sickly. I had been fed boiled milk for sometime to be sure it did not have typhus germs. I must have had a winning smile and there was no question the doctor liked me. He asked his wife, "Are you sure you are strong enough to take on this responsibility?"
"Yes" she was sure.
"Could the Home care for Ruth for another week until I and a friend have a chance to give a party to which invitations have been issued?"
The news spread fast and the telephone was kept ringing with congratulations. I was eleven months old. It seems that I arrived with a few handmade clothes and even though Mrs. Howard recognized that the stitching showed that I had been loved, she did not keep them to show me. By the time she told me about the Pennys, the clothes might have fallen apart from age anyway. I was thirty when she told me. She was very possessive and and apparently did not want me to know I was adopted. I believe she feared I would love her less. The following letters may be able to explain the matter more fully.
Danville, Illinois
March 14, 1928
Mr. William Penny
Dayton, Ohio
Dear Sir— Doctor Howard tells me that you wish to have a picture of Ruth. I am sending you one of her latest by this mail.
I am also glad to tell you about her. She is well and as happy as the day is long. She was a very delicate child and if she had not been in a physician's family where every breath she drew was watched, she would never have pulled through and it is only by careful watching that we keep her in good health now. Her every wish has been gratified but it has not spoiled her. She has a sweet disposition, is a lovely little Christian, and is a fine student. It is her ambition to go to College and she shall have the advantage of the very best education possible.
When she was a little girl she asked me if I was the only mother she ever had— I told her that God had taken her own Mother to be an angel in Heaven and that He had given me to her for a Mother— She said, "there couldn't be a better Mother anywhere than you are, Mother"— and I am happy to know that she still thinks so. She adores Dr. Howard. She has always seemed to think that he is her own peculiar property and he loves her as much as she loves him.
She has never asked and I have never told her anything about you, when she does as I am sure she will someday, I shall tell her frankly everything I know and if she wishes, it shall be made pleasant and easy for her to see you. I am anxious that the knowledge shall come to her naturally and not be forced upon her, for I have always been afraid that it would grieve her when she learned that the relatives cared for the brother, and left the delicate little girl to strangers. We have given all these years to caring for her and loving her and her happiness is our first consideration.
Very sincerely yours,
Mrs. M. L. Howard.
The incident where I asked if she were the only mother I ever had occurred when I was in the third grade. A flighty friend of mother's came to visit and said, 'Oh this is the little girl you adopted.' I do not remember the details of the discussion with my mother.
Dayton, Ohio
Dec—26, 1949
Dear Daughter Ruth,
It has been so long since I saw you that I do not know how to start this letter. I am on the Building force of the Dayton Public Library and as this is a Public Holiday they are closed. So I am here at the Library all by myself.
I am in better health than I was when I was younger. As I have not lost a day's work in four years but I am getting old (for a Penny). As I will be 67 the 18 day of Feb. and I would like to see you once more. As I just have a sleeping room and get all my meals in a restaurant and it is awful lonesome. I was custodian of the Y.M.C.A. for 15 years before I came here. Then my second wife died and I was left all alone; but I was married to her 24 years before she died.
Ruth I made six trips from Dayton to Danville, Ill. to see you. But Mr. Howard would not let me see you. But I saw you each time I was there. But Mr. Howard told me if I told you who I was that he would not leave you one (Penny). But I wanted to see you so bad that I went to the Chief of Police in Danville and he talked me out of it.
Do you know a Mrs. Ruth Smith? She knows you and I stayed with her when I was trying to see you. She sent me a notice of Father Howard death, and Mother Howard sent me your graduation picture and I am thankful for I have a lot of respect for Mr—Mrs Howard. And I can't blame them for being jealous of your love. Well I started this on Monday but here it is Friday for I have so much to tell you that I can't think of what to say. So I will tell you that you have the sweetest sister in the world, and your brother Randolph is fine.
Selma has a fine home and three beautiful Children and her husband is a Foreman in the General Motors plant here in Dayton and they just get along fine. I have a picture of you when you were a baby and of your sister Fern. If you want them just let me know. My two weeks vacation is over and I will not have any more time off till next Aug. and I cannot afford to lay off to come to see you. But if God is willing I want to see you before I die. I did not desert you Ruth. When your Mother Elsie died I had T.B. and the doctors said I would not live four months. So I sent Randolph to your Mother's Sister. And you was so small that I done the best I could and adopted you. But Ruth I still Love you. And I loved your Mother. Your Mother and I were married in Denver, Colorado. And you have a little brother buried in Denver. And you have a little sister buried in Middletown, Ohio. Her name was Fern. And she died at the age of 18 months with the Whooping Cough. Ruth I am sure glad you had such a good home. And I am so thankful that Mr. & Mrs. Howard done so well by you for I could not have given you the Education that they did. And tell your Husband that I think he has got the Sweetest little Woman in the world if she is like her mother. So you see I still have young ideas. Ruth I hope you and Milo will like your Dad.
Please write. Your Dad
William Penny.
PUBLIC LIBRARY DAYTON, OHIO Or 266 LAFAYETTE ST
I will start with the story of when I took my first steps. It must have been the summer of 1911 that my mother was entertaining a neighbor in the library when the visitor picked up my teddy bear and asked me to come and get it. Instead of crawling as usual to get it, I took my first steps to her side. However, this one experience did not mean that I walked from then on. My parents allowed me to sleep that night with an electric fan blowing on me. I came down with a bad case of tonsillitis and was too weak to walk again for many months.
When I was an adult and married, my husband noted a slight limp and a deformity of my right ankle and other subtle signs of polio or paralysis. He had had polio when he was 15 months old and tends to notice such things. He believes that this may have been the time when I contracted the polio and was the thing responsible for the delay in my walking again. The apparent tonsillitis covered up the symptoms of polio. At the age of twelve while I was being fitted for new shoes, the fitter noticed that I walked with a slight limp and remarked, "Why, she is a little lame! Isn't she?"
Doctor Howard was indignant and said I was not lame. My husband also noticed that I held my arm in a position he often associated with weakness or paralysis. I have since overcome that habit and it rarely appears.
Not only was I slow in walking but also in talking distinctly enough to be understood. I was said to have loved to see the flag flying over the lumber yard but most people could not have told what I was crying about the evening we arrived after the 'sag' had been taken down. Another phrase I used when talking to the laundress was, "Wait a soo mimutes and I will pick you sore or sive sours" instead of 'wait a few minutes and I will pick you four or five flowers.
My mother remembered a time when she wished I had not spoken so distinctly. She intended to send me to the Methodist Sunday School which was in their church several blocks away. If she was late getting me dressed, it was easy to watch me go to the Presbyterian Sunday School across the street. One morning I walked into the Presbyterian class and announced in loud tones, "I didn't 1ike my Daddy's Sunday School so I came back here, "Of course, it was not long before my Mother heard of the incident.
The laundress is credited with sitting me down at the age of 6 years, 10 months when I was about to start school and telling me I would have to learn to pronounce my F 's or people were going to make -fun of me. At least this may have drawn my attention to this deficiency. Perhaps I relied on my mother to interpret for me the first month or so of school because she attended my first, even second grade, so often that she boasted that she could prompt a new teacher on the school routine when she became confused.
When I remember how distinctly my grand-daughter, Faith Myer, could say her name at the age of three, I cannot understand how my parents could let me go to school unable to pronounce my last name. It seems that all first grade students were examined by the school nurse who sent notes home to parents informing them of anything she found wrong. Imagine my mother's surprise to receive the following note:
"Mrs. Hart: I find that Ruth's tonsils are enlarged so I recommend that she be examined by a doctor." Doctor Howard unlike many doctors in Danville did not think tonsils should be removed the minute they looked slightly enlarged. "Just wait and see if they do not go back to normal."
It did not take my mother long to call the school and ask for an explanation from an apologizing nurse. She would never have sent such a note about Dr. Howard's daughter.
Memories of Santa Claus and Christmas should be plentiful. My first Christmas tree was so overpowering when I came into the room I just stood there with tears streaming down my face. In one of my letters to Santa Claus
I wrote, "Dear Santa, If you can't afford anything else, bring me a tree and make it a big one." Needless to say I got a tree that touched the 12 foot ceiling. As mother was putting me to bed one Christmas night she asked if everything Santa brought me was alright. I replied that Santa had made one mistake. "What was that?" she asked. "He gave me a Pile Driver instead of a rocking horse." (Dad Howard enjoyed playing with the Pile Driver.) By the next Christmas I was too old to want a rocking horse.
Then there was the pre-Christmas celebration at the Presbyterian Church across the street. I was sitting in the crowded church between my parents when I caught a glimpse of Santa walking down the aisle. I burst out of my seat and went yelling after him. "Santa, my chimney will be open!"
Instead of putting up the tree in preparation for Santa Claus and his gifts, the Howards waited until I was asleep before dragging in the tree. I could not help noticing that Santa managed to give me back the same ornaments year after year. Finally I realized that even Santa would not be able to keep my tree decorations separate from all the rest. Mother had to tell me that she and Dad were really carrying out the spirit of Christmas.
One of the toys I can remember playing with is the doll house Dad made for me. He stayed hidden away in an unheated room off the winding back stairs to make it and the doll furniture was made from wooden cigar boxes. For the dresser I had made a collection of tiny straight pins. When Mother called up the stairs to the play room asking, "Ruth, don't you want to go riding with Dad?" I replied, "Wait until I finish dusting the pins in my doll house."
I should go back to tell that I wrote naturally with my left hand. Thinking that the world is set up for right handed people, they forced me to write with my right hand. I went to school at seven. (My mother had asked permission to keep me out for a year because I was backward.) I wrote and drew with my right hand; but things like dealing cards that no one bothered to teach me I did with my left hand.
My experience in the swimming class at Radcliffe College was quite revealing. Everyone was told to lie down on their right side to practice the side stroke before getting into the pool. Most of the girls had no difficulty in swimming on the right side once they got into the water. I just floundered around for quite a while. Without thinking I turned over to my left side and found that I too could swim.
Perhaps making me write with my right hand made it difficult for me to read. In addition, a tendency to dyslexia was discovered by my daughter, Alice and her husband, Harry, a few years ago. While I was in the lower grades a teacher (certainly not my own teacher) called Mother and asked her to bring me in to participate in a demonstration class at a teacher's conference. Someone stood at the blackboard and wrote '2 + 2' and quick as a flash erased it and called on me. Very deliberately (I always moved slowly) I got up from my seat and said, "You went too fast for me." Of course, that brought down the house.
I suppose the lack of reading skills became more and more apparent to my parents. When I was ready for the fifth grade, they decided to send me to Miss Margaretta Park's private school conducted in her own home. While the rest of the fifth grade had art or something considered unimportant, Miss Snyder took me aside and helped me to read that year. The individual attention must have been what I needed because I do not remember having trouble after that. When I reached sixth grade there were only two students enrolled for that class. The next year Miss Park no longer ran a private school, except for kindergarten, and I was forced back to public school for the seventh and eighth grades. In fact, I liked my high school classes except for gym where I always got stuck on the apparatus like the horse. I even liked Latin until my teacher, Miss Gloria Roach, had to call me down for raising my hand to cross every 't' and dot every 'i'. I had never been corrected publicly before and felt badly hurt.
By dint of hard work (my father would not buy a radio in 1928 until after I graduated for fear of interfering with my grades) I got the best grades for any girl in my senior year.
Choosing a college was not as difficult as most High School seniors find it to be. My Mother's ambitions to go to an Eastern college were never realized because her father died young, leaving little money for college. Now I could go East in her place provided we could find a good school that did not require my taking College Entrance Board Exams. We felt sure that Danville High School had not prepared me for such strenuous tests. Then we heard that Radcliffe College was going to admit a limited number of girls without College Board exams in 1928, because it wanted to broaden its student population to include girls from the West rather than mostly from the East. The only exams I had to take were the Scholastic Aptitude tests given in Indianapolis, Indiana.
They sent us an application blank for a room assignment which included four suites of rooms, each to accommodate two girls. Mother applied for a room in each one, not knowing that such rooms were given only to upperclassmen. They broke the rule against freshmen in the case of the Grossman twins. When we arrived we discovered that I had been ­assigned to a room that had just been changed from a small upstairs parlor to a bedroom at the head of the wide staircase in Bertram Hall, the oldest dormitory on the campus. Although it had a wardrobe instead of a built in closet for my clothes, I kept it for my four years.
Before we started for Cambridge I mentioned the fact that I might be able to go by myself; but Mother would not hear of such a thing. While she was there she met several of the girls on my floor and suggested that they keep me from being so lonely. I had never been away from home overnight. I remember that some of them dropped in to see what I was doing and discovered me writing a letter home, (I had promised to write every day, even if only a postcard.) when I should have been getting acquainted in the living room downstairs.
After the students and parents had attended a welcoming ceremony, the students walked to the dormitories while parents looked on before leaving. Mother descried my lonely little back receding in the distance. I believe she cried most of the trip back home on the train.
When I came into the dormitory after classes, I looked forward to finding a letter, sometimes more than one, waiting for me in her beautiful hand writing. Then a bigger thrill, I would receive my laundry case with homemade cookies packed along with my clean clothes. Was my room ever popular for the next few hours.
­How did World War I affect me? Not much, because when Doctor Howard tried to enlist as a doctor, he was told he was too old. He was then around 50 years old. When the flu epidemic hit our community in 1918, his patients must have been grateful that he was at home to doctor them. For months he was on the go, night and day, prescribing for his patients from his office which was part of our home, and making house calls with the aid of a Model T Ford. Finally when the worst was over, he had a chance to realize that he was approaching a nervous collapse. Since he was a real family doctor who talked with his patients about his own problems as well as theirs, it was not surprising that he told Mrs. Coutant that he wished he could go someplace for a couple of weeks where he could not hear a telephone or a door bell. After thinking it over she replied that she would love to have us as 'paying guests' at her cottage on Klinger Lake in Michigan where she spent every summer. She had long been a widow with three grown children who could spend little time with her. If we thought we could put up with her cooking, she would enjoy doing for us.
That summer he felt that he could not take more than two weeks away from the office. For the first few days he spent most of his time just staring at the lake from her wide porch. As his strength returned he was able to take the rowboat out and try a little fishing. He liked the fishing so much that he extended our vacation to three weeks the next year, then to a month, with a weekend in the middle driving the 100 miles back and forth by himself in order to see some of his chronically ill patients.
After several years boarding with Mrs. Coutant, my mother decided that we needed to own a part of that beautiful lakeside. We were crowded, confined to two double beds where I took up more and more of the mattress. Then one summer we arrived to discover that Mr. Sanders, who had a furniture store in the nearby town of Sturgis was building a cottage, only five cottages from Mrs. Coutant. He and his brother were managing without much professional help. Every few days my mother would walk down the path and ask, "Do you think you would be willing to sell this place?"
He would reply, "If I could get my price I would."
He had bought the only vacant lot right on the lakeside at Mound Springs and had one of the original mounds for which the resort area had been named. Besides he had taken the furniture off the floor of his furniture store, with twin beds for the bedrooms and matching wicker and upholstered pieces for the living room, instead of the hodge podge of left over things from his home in the city. I cannot remember how much his price turned out to be.
I know we spent many happy summers there, with Dr Howard spending every waking hour from sun up to sundown fishing from his motor boat. My mother did not go out often except for trolling with artificial bait when the motor was running. As I grew older I would accompany him, wearing my only pair of pants and carrying a can of night crawlers to put on my hook. I did not catch as big fish as Dad did with his minnows; but I got more bites. In all those years until 1946, I think we missed only one summer at Klinger Lake. That was in 1936 when we decided to take a train tour of the West. We joined the tour in Chicago and after seeing all the National Parks planned for the trip, we left the Pullman party and came back by way of a visit to a cousin in Washington State and a side trip to Crater Lake.
It is interesting to note how you viewed your life in the past. I am looking back in my life as I reported it at my 50th, and 55th year reunions of the Class of 1932 at Radcliffe College. I am quoting from the brief resumes of my life printed at those times.
1957 Radcliffe College 25th Reunion

Ruth Howard (Mrs. Milo L. Wadlin)

Field: History.

Married: 1949.

Husband's occupation: Research Electrical Engineer.

Children: Ruth Alice 6 plus, Milo III almost 5.

Further Studies:

Scarrett College 1948—49.

1934 M.A. University of Chicago
After graduating -from Radcliffe, I invited Dorothy Henry '31 to spend the summer with me, partly at Klinger Lake, Michigan where we had a summer home. Dorothy and I have remained close ever since, because she is an unusually good letter writer. When she heard that my mother had died in 1948 she invited me to visit her in the Poconos and in Princeton, New Jersey, her home town. That year she took a job at R.C.A. Research Laboratories. There and through the Methodist Young Adults she met Milo, and was so convinced that we were meant -for each other that she invited us both to a house party at Christmas time. After three months correspondence, Milo flew to Scarrett College where I was studying and proposed. We were married in August 1949 and I can truly say that "life began at 40" for me. Alice was born in October 1950 and Milo III in May 1952, two healthy and, we think intelligent children. On the last day of 1950 we moved into our new home, built not far from R.C.A. , so that Milo comes home for lunch every day. In 1954 I decided to go to Vassar Summer Institute of Family Relations, with the two children. Milo III was as young as they accepted anyone and proved to be too immature to leave in the children's dormitory, except for 1 1/2 hours a day. However, it was wonderful for Alice and me and Milo III seems to have regained his security. We are all busy and happy this year; Alice in 1st grade and Milo III in Nursery school, Milo writing a book on the side and Assistant Superintendent of the Sunday School, I am superintendent of the Nursery Department, Secretary of Student Work for the Women's Society of the Church. I belong to a neighborhood sewing circle and attend the Eastern Star three times a month.
1982 Radcliffe College 50th Reunion
Husband: Retired Electrical Engineer.
Children: Milo L. III, Ruth Alice Wadlin Myer (Mrs. Harry).
Grand Children: Faith Sarah Myer.
At Scarrett College in 1948, when I took a test to see what career I should choose, I made an almost perfect score for the social service field. So it is no surprise that I have been happy living for, and traveling with, my family and teaching children in church school.
Our travels started with a 10 day cruise to Nassau and Haiti during the children's Easter vacation to help Milo get over a persistent cough acquired while running in winter to catch a plane.
It was Milo III who provided us, Mom, Dad and Alice, with a chance to visit Europe. In 1965 as a member of the Columbus Boychoir School he toured Italy while we saw Paris, London and much more.
Three years later we acquired a Motorhome and took our first trip in it to Des Moines to 'orient' Alice at Drake University. For several years, the two of us went back and forth over the United States, touching 47 states, Canada, and Mexico.
Again it was Milo III's interest in the family tree that got him an invitation to visit a distant cousin in Plymouth, England. Since he couldn't accept, he sent Mom and Dad in his place to spend two weeks researching the family of John Wadlin, emigrant to New York in 1835.
Finally it was Alice and Harry who presented us with our first grandchild last summer. Now I can look forward to many happy hours watching Faith Sarah Myer grow.
Since the above was written Milo III married Louise Anne Bell, a pediatric dentist, on 17 March 1985 and they presented us with another grand-daughter, Anne Rachel Wadlin, born 22 June 1986. This time my love will have to stretch from New Jersey to Oregon. Some personal contact will be lost; but love and affection can bridge the gap.
Although we knew within ten minutes of her birth, we had to wait until September 10, 1986 to visit her in Oregon for two weeks. Our trip to Aloha, Oregon had been planned far in advance. Milo III knew we should make our visit only after they had established their routine of watching Anne closely and going to her when she showed the least sign of boredom or fussiness, so that they were rewarding her smiling, not waiting for her to cry to get their attention. It would have been easy for Lou Ann to forget that I did not come to be entertained outside their home; but solely to become acquainted with Anne by having her placed in my arms many times each day. Even the last day we were there, Anne and I spent the morning together on the sofa enjoying each other's company. What more could I ask?
1987 55th Reunion
It has been even more absorbing to watch our first grand daughter, Faith, grow to be a kindergartener than I had anticipated. When she was 4, her parents moved closer to us, so we get to see her frequently and we are pleased to have her spend the night with us and go to church on special occasions.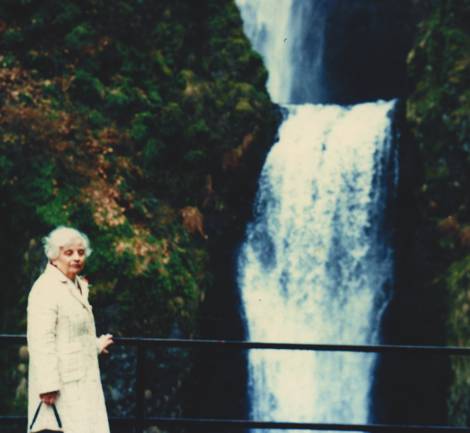 Milo III chose the Pacific Northwest for his business location. Since he used a computer in his business it was not long before he met Louise Anne Bell and her brother through a computer bulletin board they operated. They decided to be married on March 17, 1985 with the beautiful Multnomah Falls in Oregon as the backdrop. Of course, we flew to Oregon for the wedding and again in September 1986 to spend two weeks with our second grand daughter, Anne Rachel, then three months old. They hope to bring her East for a visit next summer.
That visit to Oregon made it possible for Milo III and Lou Ann to introduce Dad to a computer. He saw how wonderful it would be to have a word processor to help him write a Wadlin Family History. It did not take long for him to buy one and start learning to use it. Finally with a little persuasion on his part, I have written a partial auto—biography which he has processed and printed for our children. In fact he has spent so many hours writing in the last two months, I feel like a computer widow.
Dad and I have spent the last three years as volunteers in our school district program called Sharing the Ages. It is meant to acquaint the children with older people. Many either do not have grandparents nearby or none at all. It is very rewarding to talk to them and see how intelligent they really are. We have spent two years in the Kindergarten and this year in the First Grade.